Beam-Form Panel Features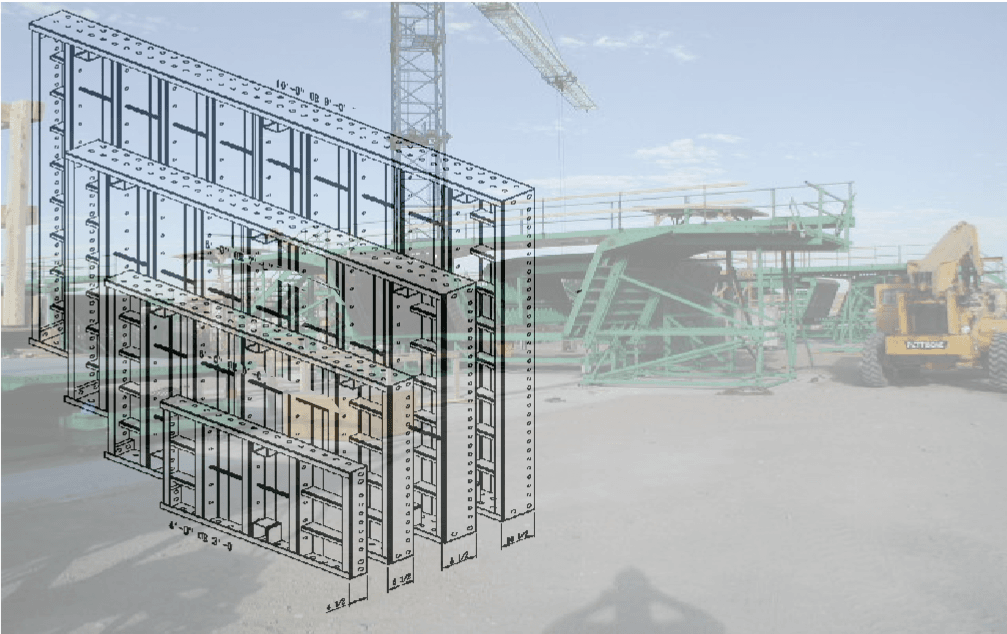 3/16" Face Plate(skin)

3/16" Bent Plate "Z" Ribs at 12" O.C.

3/16" Bent Plate Angle End Stiffeners

1/4" Bent Plate Angle Perimeter Members

Tie Bearings Top & Bottom at 4' O.C.

5/8" Dia. Safety Rods

End Moment Connection Blocks for 1" Dia. Bolts

Holes for 3/4" Dia. Bolts @ 3" O.C.

Ribs Punched to Accept Accessories
COLUMN FORMS
BRIDGE DECKS, OVERHANGS & STRIPPING BUGGIES
DIAPHRAGM FORMS
FRICTION COLLARS & BRACKET JACKS
SEGMENTAL FORMS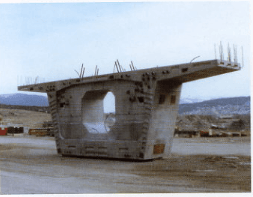 Since the dawn of time, bridges have been central to the ascendency of civilization. From the first fallen log across a prehistoric stream, to the shining Golden Gate, right up to today's sophisticated concrete cantilever structures, bridges have been an invaluable tool to mankind, facilitating the transfer of commerce, communication and ideology across natural or man-made barriers. Today, bridges continue to play a pivotal role in our society. New bridges are needed to cross previously unspanned reaches. The capacity of existing bridges must be expanded to keep pace with growing traffic demands. Old bridges must be torn down and replaced with modern, safer designs. In recent years, concrete segmental bridge designs have proven to be an innovative, economical and aesthetically pleasing solution to the problem.
To assist modern concrete bridge builders, Southern Forms has assembled one of the finest groups of engineers anywhere. In a field which demands precision Fabrication in order to produce exacting concrete geometry, our engineers have utilized their decades of cumulative experience in the concrete bridge industry to design, develop and perfecta unique segmentaI bridge casting machine.
---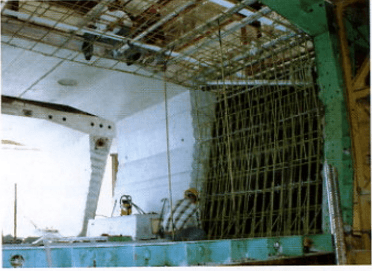 Our highly experienced engineers have proven the validity of our forming concepts, establishing Southern Forms as a leading force in the segmental bridge form industry. In our first two years, we have provided both casting machine and steel forms, with on-site erection assistance, for two major bridge projects: Hanging Lake Viaduct located on 1-70 in Colorado Glenwood Canyon, and the Windward Viaduct on Hawaii's Interstate H- 3 near Kaneohe on the island of Oahu.
Despite the unique and complicated challenges posed by both jobs, our engineers were able to deduce the most practical and economical approach to segment casting, resulting in a superior product completed on schedule to exacting tolerances. Casting machines are manufactured at our Guild, Tennessee facility by an expert fabrication team utilizing the very latest in computerized, precision machine tools. We are especially proud of our central Tennessee production team. They recognize that the bottom line is quality control. Their dedication, concentration and productivity is the key to our reputation for timely delivery of superior products.
---
BARRIER FORMS
WASTE-WATER TREATMENT PLANT FORMS
PERSONAL SAFETY CARRIER
ACCESSORIES
UTILITY DIVISION
In 1990, Southern Forms diversified itself into the pole line hardware market with the addition of a utilities division. Our new division, Southern Forms Utility, has the distinct advantage of being able to draw upon the workmanship, machinery and quality control available through our steel forms division, our products now hang on utility poles from Maine to Louisiana and rapid expansion is expected into other areas of the nation and overseas.